"I've made a huge mistake." -Gob
I'm a big fan of Arrested Development. Especially the character of Gob played by Will Arnett. When he would do something especially boneheaded, his catchphrase was, "I've made a huge mistake." I wondered this past week if I had a Gob moment.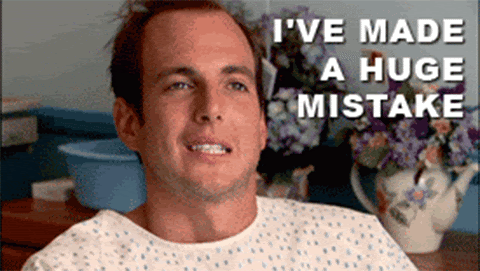 Against the advice of several people that are more successful and wealthier than me, I paid off my mortgage.*
(*I realize the incredible amount of privilege I have even being able to do this, let alone second guess it after the fact. The irony is not lost on me.)
Let me jump into the Wayback Machine and set this situation up better. A few years ago when interest rates were historically low, I was trying to decide if I should pay off my mortgage from the money I'd managed to stockpile into savings or do a REFI to a lower rate.
I sought the advice of several people in my life that have been extraordinary successful in real estate and finance. The advice was unanimous: cash is king and these rates are amazing. Without a doubt, do the REFI.
Their logic, which I still believe is sound and "correct" was that if I was able to get an interest rate below 3%, then I would be better off in the long run if I deployed that capitol in other ways. For example, put it in the stock market and make money on my money. Or I could keep it in cash an be on the lookout for a real estate opportunity.
At the time I thought, "That's solid advice, they've done this more than me. I'm going to listen to these highly successful people."
At that exact moment, the Seattle real estate market was on fire. There were bidding wars on virtually every house that I would be competing for, so I took my savings and decided to put it in the stock market.
I bought shares of Apple, Google, Amazon and Tesla. I know it's not terribly diversified, but the tech stocks were rocking and rolling.
For a while, things were going great. I was making good money in the market. The tech stocks were doing well. I think 3 of the 4 did stock splits. The strategy was working.
Then, as we all know, things changed dramatically when the Federal Reserve decided that it was time to raise interest rates. The Fed went on a relentless march of rate raising month after month and all of my stock positions took a nose dive. Then Elon Musk purchased Twitter, and all of the sudden Tesla stock fell off a cliff.
I looked at my balance sheet and all I saw was red. It was painful. The big losses really bummed me out.
So a few months back, I started thinking about why I wanted to pay off my mortgage and realized it was more than just dollars and cents for me.
While I felt like I understood the smart play, I came to realize that there are some emotional and psychological reasons for me to pay things off. I'm a single, divorced man in my 50s. I do not have any kids, and as Don always says, "Nobody is coming to save you."
I've been paying either rent or a mortgage (sometimes both when we were in radio and living in other markets) since I was 17 years old. The prospect of not having a mortgage payment on the first of every month had an amazing pull on my psyche for the security it seems to offer. The more I thought about it, the more it seemed like a good idea to just pay it off. All I needed was for these stocks to make a big rebound.
So I did a bunch of math, and then set some alerts on my computer of when I should sell these stocks. Apple came back first, and I sold my position. Then Amazon and Google made a rally. I would sell all my shares and put the proceeds into a separate account.
Tesla, on the other hand, was a different story. It had been really battered by interest rates and the reaction to Elon's antics at the helm of Twitter. I was sure I'd have to wait for months and months before Tesla would be even close to the price I needed it to be. I was hoping if I stayed patient, it might happen by the end of the year or maybe Spring of 2024.
Surprisingly to me, in the span of a month from the middle of May to the Middle of June, Tesla stock increased by almost $95 per share. It was an astonishing move.
One morning I woke up, and all the alerts I had set were going off. I had not yet had my morning coffee and wasn't even fully awake yet, but I double checked all my post it notes.  I entered the info into my stock platform, paused for a second, then I hit the "send" button. 
It filled almost immediately. I had the money back in my account.
As soon as the transfer showed up in my checking account, I requested the payoff number of my mortgage and headed down to my local BECU branch to initiate one of the largest wire transfers of my life. After quadruple-checking all the bank numbers, my banker sent the wire.
That was it. My mortgage was paid in full.
It felt like a weight had been lifted off my shoulders. I felt a real shift in how secure things seemed. I knew as long as I could pay my taxes and HOA dues, that I have "my place." It felt right… for me.
I know from a strictly logical, maximum ROI viewpoint that this move was a "wrong," I hope that it proves to be the right choice for me in the long term.
What do you think, did I make a huge mistake? Let me know in the comments below.
---