Years ago, Don's Grandpa told him "You can't help everyone everywhere, but you can help someone somewhere."
I don't know if he came up with that quote, but it became the guiding principle of how we approached raising and giving away over $11 million dollars in our years on terrestrial radio with The Ron & Don Show. 
So as I've been sitting here watching the horrors of Russia's invasion of Ukraine, I've had the urge to help someone somewhere. But I didn't know who. I don't know anyone in Ukraine.
I've been following Jose Andres and his charity World Central Kitchen where he sets up make shift kitchens to get food to people impacted by large scale tragedies. I really love his approach. But I didn't give.
I looked up Nova Ukraine and Razom for Ukraine based on a recommendation from Steven Colbert's show. Both seem like excellent charities – but I did not give.
Then as we were preparing for this week's episodes of the Ron & Don Podcast (1.3 million listens – available on the podcast player of your choice. 😉, Don sent me a story entitled "Ukraine Airbnbs being booked to get money to residents quickly"
The headline kind of says it all – if you're set up on the Airbnb app, you just book a stay with a host in Ukraine and in a matter of days, the money will be in the account of that host.
After reading the article, I had found my way to give. Watching the bravery and courage of everyday Ukrainians has been nothing short of inspiring to me. I teared up watching the grandma manufacture Molotov cocktails out of the rubble of her recently bombed town square and marveled at the video of a Ukraine man driving his car up to Putin's tanks offering to tow them back to Russia.
I felt the urge to give directly to one person.
So I fired up Airbnb online, and did a search for Kiev. I clicked around like I normally would if I was going on a vacation. I found a host named POMaH, who's been on the platform since 2019. He has 138 positive reviews.
I have a good feeling about him – so I booked a stay in his apartment.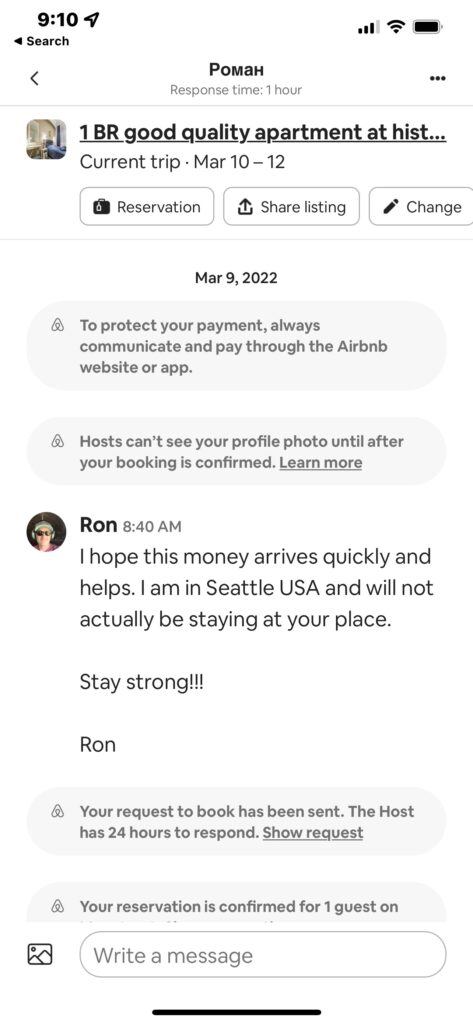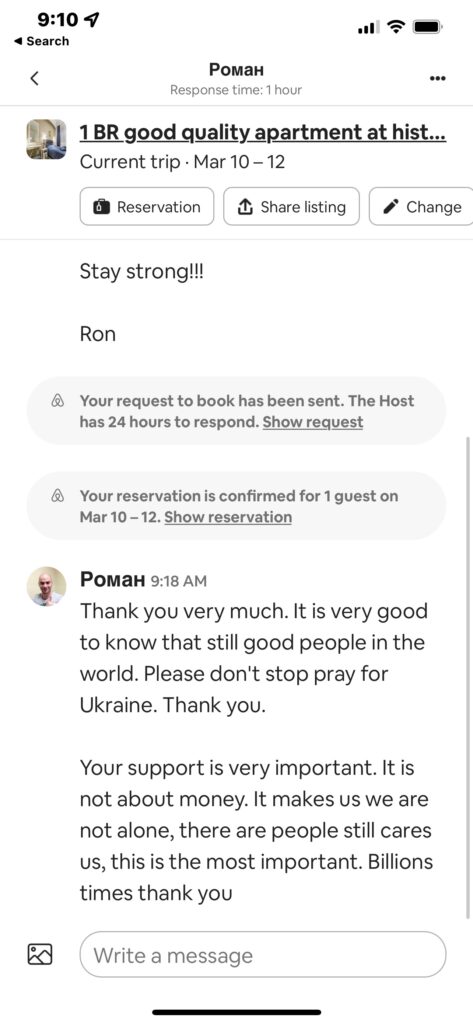 No, a billion times thank you POMaH. I hope that you get your peaceful life back very soon and there are no longer bombs from a psychopath raining down on your home.
Viva Ukraine.
---