Dear Bubba,
12 years ago today, as Bruce Hornsby's song "Fields Of Gray" played on the overhead speakers at Swedish Hospital, I got to cut the cord and meet you for the very first time. To tell the truth, I was scared, so afraid, and a bit drunk from the 3 double Jack and Cokes I had downstairs in a local bar waiting for your arrival. Growing up, I didn't have a dad throughout my young life, and I thought the lack of modeling would be a detriment to my ability to be your father, your friend, and someone you might look up to one day.
Though I had no idea what I was doing…
I knew one thing…
I knew after holding you in my arms, that I wasn't going to do what my dad had done to his wife and 4 kids…
I wasn't going to run…
But I knew I was in trouble… and knew I needed help.
Over the course of the next few years, I read books, I took classes, I sought out a therapist thanks to Mr. Ron, and I addressed my drinking, which was my way of numbing, hiding, and not showing up for myself. When you don't show up for yourself Bubba, you can't show up for others. No one is ever going to come save you in this life. You must have the grit, determination, fortitude, and spirituality to save yourself. It is an inside job that only you can address.
As you turn 12 today , and I turn 55 in a few days, Bruce's song remains my prayer for you and me…
Bruce wrote "Field's of Gray" in 1992 after finding out that he wasn't just going to have one son…..he was about to have two!
When he and his wife Kathy brought their baby boy's home, Bruce was feeling many of the feelings I have just shared with you….but instead of running and numbing, he sat down at his piano in his kids nursery and he wrote Russel and Keith this song… this promise… this commitment.
From "Fields of Gray"….
When the night lies so still
Before I go to sleep
I come by, I come by
Just to look at you
In the dim light I say
That in my own small way
I will try, I will try
To help you through
There'll be blue skies falling
There'll be bad scenes and bad dreamsIn a world so uncertain
Through the clouds it's hard to seeI will grab you and lift you
As you hold on tight and sway
We'll go walking
Across the fields of gray
-Bruce Hornsby
As Bruce wrote in his song, it has certainly been easier to be your father when life has presented us with blue skies…
But the calling of any parent is to be there for you when the skies turn gray.
That is the greater challenge…
When your daddy lost his job and it was printed for all the world to see in the Seattle Times and kids and teachers asked you about it at school…
When you were bullied at the same school…
When we visited Children's many times to battle your medical issues….
When Grandpa died…
When your best friend moved away…
When Nola our first dog passed…
And when COVID hit and we became isolated just like everyone else in the world…
Those were The Fields… The Fields of Gray… and there in those fields I have shown up for you, I have walked with you, I have cried with you, prayed with you, and at times I carried you.
Because I did the work… And so I could.
I am closer to the end of my life than I am to the beginning. I pray everyday that I am here long enough to give you a good push into the world.
I want to thank you Bubba for having such a profound impact on my life…. Although I am far from a perfect parent, and I blow it at times on the daily…
I do know one thing…
I have learned to show up for myself…
And that has allowed me to show up for you.
Learning that unlocked everything for me… and as you grow up, I think it will be an important key for you as well.
One day when I am no longer here, I hope you will listen to Bruce's song and read this….
Know that I am not far away…
Just take a walk…
And you will find me walking with you…
Walking in "The Fields of Gray".
Happy 12th young man.
Today we celebrate the kind, thoughtful, curious, and cool little human you have become!
May this trip around the sun be full of blue skies, cool diving trips, Roblox, and lot's of walks with your new dog Charlie….and a trip to NYC in a few short hours you don't know about…
It is my honor today to be called your daddy.
All My Love and devotion son,
-Dad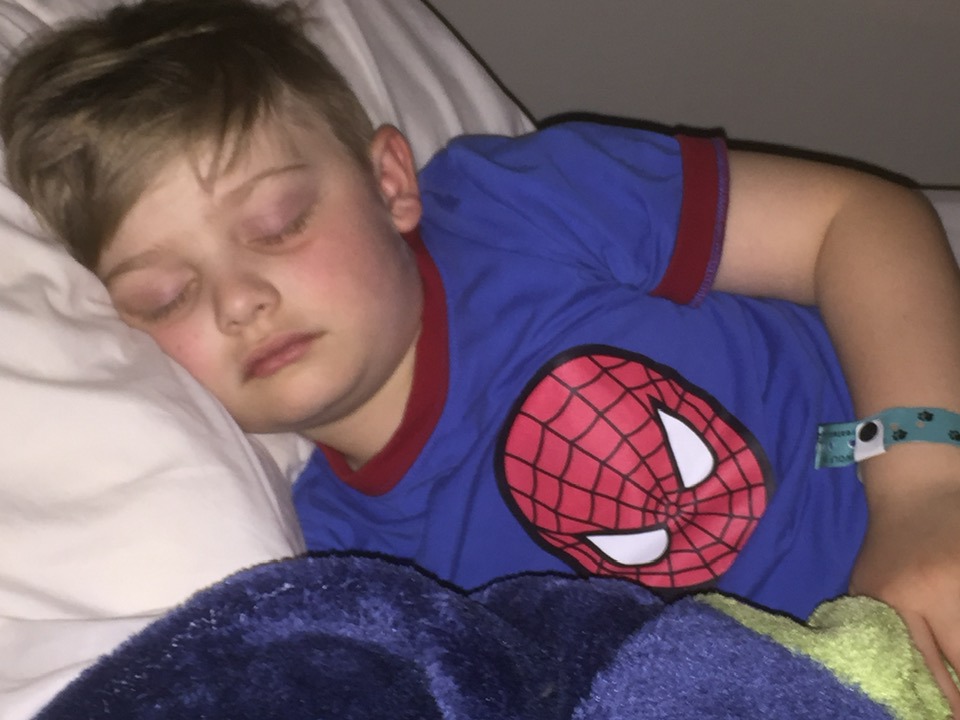 ---