In case you haven't noticed, everyone is talking about ChatGPT. So while I could just post up my usual thank you note, I decided to do something a little different this week.
Originally I wrote a message as I was boarding the plane back home to Seattle after visiting Utah for a week with my son. I wanted to thank Sup Lillywhite, our mountain guide instructor that works for Paragon Adventures in St. George, Utah.
Rather than just trust myself to write something myself, I thought I would see if ChatGPT could write a story about him. So before we jump into what ChatGPT wrote, here is what I had to say, from my heart, as I was boarding the plane back to Seattle.
What I had Written As I Boarded the Plane
Hey Sup! Boarding the plane back to Seattle. I just wanted you to know that my time in Utah with you and Liz was a life changing moment. We all have only so many minutes and moments together on this planet, and I am filled with such gratitude for spending some of those with you.
Keep telling your story about pushing away from that f*cking desk to go chase your bliss.
Because of the story you shared about leaving that firm to go work as a guide and raise your kids outside, I am going to go home and push away from some of the " standing desks" in my life that have been standing in my way!
I said a prayer for you , your wife, your kids and your business last night on my last night walk.
I am impressed to tell you that as your kids get older, YOU and your wife are enough. ( they were afraid of living away from family).
They have already found their people.
It is the both of you .
So, lean into it.
I will be back with a 13 year in tow.
Until then, keep climbing!
Your friend,
-don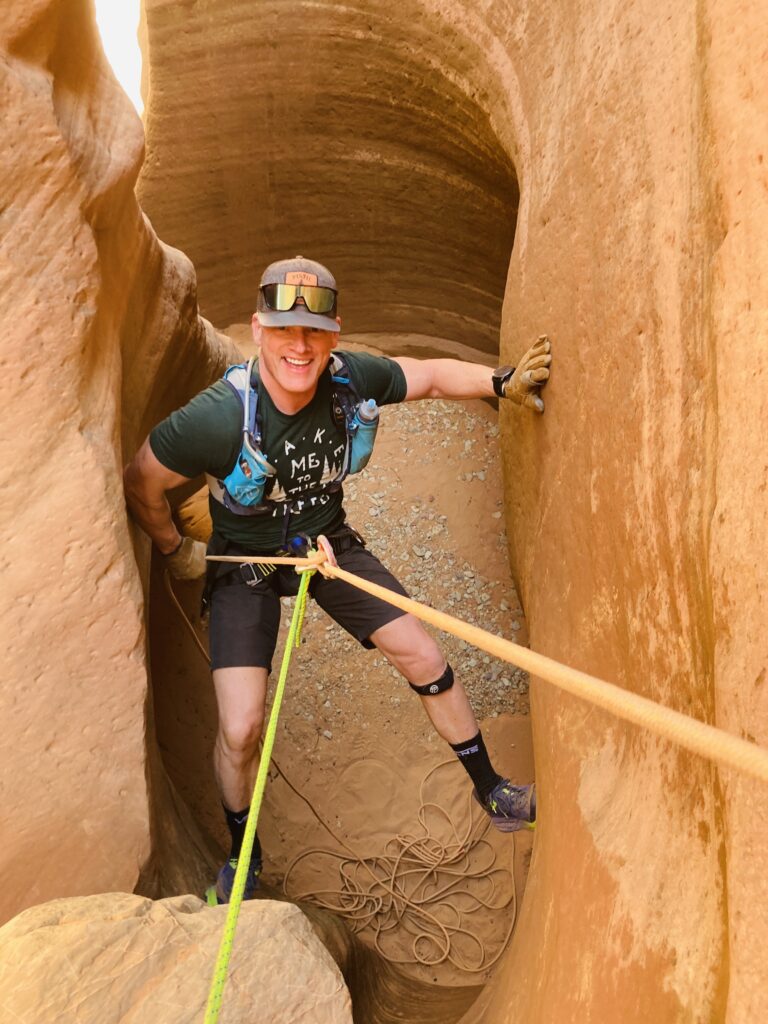 Honest, direct, and from the heart. But is that even what people want to read anymore? So now the moment you've all really been waiting for, what ChatGPT wrote for me instead.
ChatGPT's Story About Sup
Don: Hey Chat GPT, can you write a story about a mountain guide instructor that works for Paragon Adventures in St. George, Utah? His name is Sup Lillywhite. I want it to be inspirational. I just spent the week with him and he inspired me as a dad and as a human…
ChatGPT: Sup Lillywhite had always been drawn to the mountains. As a child, he would spend hours exploring the hills and valleys near his home, dreaming of one day becoming a mountain guide. But as he grew older, life got in the way. He went to college, got a job, and settled into a comfortable routine. But deep down, he knew that something was missing.
One day, Sup decided to take a chance. He quit his job and moved to St. George, Utah to pursue his dream of becoming a mountain guide. He started working for Paragon Adventures, a local outdoor adventure company, and quickly became one of their most popular instructors.
Sup loved his job. He loved the feeling of being out in nature, surrounded by the beauty and majesty of the mountains. He loved helping people push themselves to their limits, and watching them grow and change as a result. And most of all, he loved the sense of purpose and fulfillment that came with doing something he truly believed in.
During one of his trips, Sup met a man named Don. Don had come to Utah to climb with Sup and Liz, another guide at Paragon Adventures. During their time together, Don had been inspired by Sup's story of leaving his desk job to pursue his passion and
it had changed Don's life. Don wrote a heartfelt letter to Sup, thanking him for the experience and letting him know that he had been inspired to make some changes in his own life. Sup was deeply moved by Don's words and felt a renewed sense of purpose in his work.
From that day on, Sup made it his mission to inspire and motivate everyone he worked with. He shared his story with his clients, encouraging them to follow their dreams and pursue their passions. He pushed them to their limits, but always with a sense of compassion and understanding.
Over the years, Sup became known as one of the best mountain guides in the business. He had a loyal following of clients who came back year after year to climb with him. And he continued to inspire and motivate everyone he worked with, always reminding them that life is too short to waste on things that don't matter.
As Sup looked back on his life, he knew that he had made the right choice. He had followed his heart and found his true calling. And he had inspired countless others to do the same. For Sup, there was no greater feeling than knowing that he had made a difference in someone's life. And he knew that he would continue to do so for as long as he lived.
What Do You Think?
Ok, so now I want to know your thoughts. Should I start writing stories about all of my friends and family using AI?
Or do you prefer to hear from me direct?
Let me know in the comments below and be sure to reach out if you're considering buying or selling real estate in 2023.
---