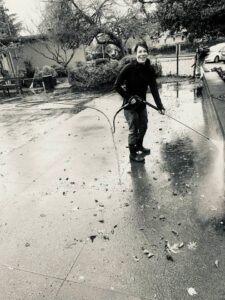 This is my dear friend Monet. She is well respected in the board room and a passionate present mama-bear to an incredible 4 year old girl. This is also a picture of her showing up to help with a clean-up day at my son 's school. She loves her community and wanted to help.
Earlier today we exchanged something…
I gave her keys to her new badass home on Queen Anne, and she handed me a hot-wheel that made me get a bit teary eyed when I drove off this afternoon.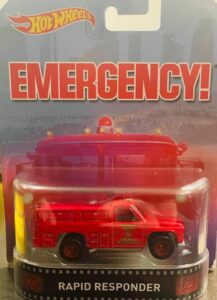 Here's why.
When I was 7, I use to listen to my dad's fire radio that sat on the top of our fridge. Often a call would come in , and he would sprint to the firehouse in the town I grew up in Gurnee, IL, to jump on a firetruck. I often pictured him saving babies, and helping car crash victims just like Gage and DeSoto did on that 1970's TV show called "EMERGENCY'. They drove a truck called SQUAD 51!
I loved that show as a well as Ron Howards 1995 classic called "BACKDRAFT"…
"You go! We go!"
They are my two favorite all time dramas. In fact when I was a boy, I swore one day I would be a firefighter too and drive a truck just like my dad, and Gage and DeSoto! When I was older, I tested for the Seattle Fire Dept, but discovered my eyesight would preclude me from ever being a first responder.
So, I decided to pursue my radio career and help as many firefighters and police officers as I could. If you have listened to us on air, you know I have great regard for all of you that rush to danger when the rest of us run away. I realized I could become a second responder by using my voice on air to help those responders in need.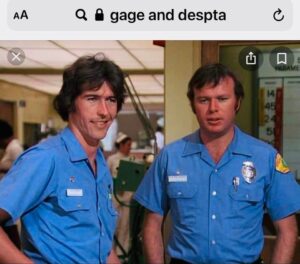 I bring this up because on our final walkthrough of Monet's home last week, we met the builders who built her fantastic home and they looked just like GAGE AND DESOTO! In fact, I started calling them that, and one admitted that he was an Everett Firefighter for over 20 years. YOU CAN'T make this up. I then told Monet that I had tracked down all three SQUADS that were used on the show because I wanted to own SQUAD 51! TWO HAD BEEN JUNKED I found out, and the one remaining was in a museum down in AZ.
Ron actually took me on a surprise visit to the museum a number of years back, and sure as shiznit it was Gage and DeSoto's, SQUAD 51!
As I handed her the keys to her new home, she handed me a beautiful card that explained she had hunted for the truck as well and this is all she could find.
I was incredibly moved as I got ready to drive off.
I stopped for a minute….Wiped a tear from my eye.
I was so touched that she would do that just for me.
And for a moment as I sat in the drive…I got a call…SHIZNIT! MY FIRST CALL! I've practiced the ten code my whole life so I knew I was ready. It was from Rampart….and they wanted to know my 10-20. I was actually 10-10 , and I asked them 10-9? They obliged! I now knew my mission.
There was a lady that was stuck in her car on a bridge right off THE 101!!
I called it in to Dixie….then talked to Dr. Phil.
…Oops! Sorry wrong show!
I told her I'd be using the paddles and we would need 100cc's on a moraphine drip stat!
I told Chet to follow in the Ladder….
And I was on my way…lights and sirens…to help that woman…in Squad 51!!!!!
( UPDATE….Lady lived and we didn't have to call "Quincy!)
"BOY IT FELT GOOD TO BE A KID TODAY! MONET!
Thanks for that
.
Love to you and Veda!
-DON DESOTO!
Squad 51
Rampart , Los Angeles
KMG635 we are 10-10 on the side
Don O'Neill is a Licensed Agent at
Windermere Real Estate Midtown
1920 North 34th Street
Seattle, WA 98103
---