Hey you guys, this is a house I bought back in 2010 for $485k.
This is what Zillow says that old rental built in 1907 is worth today, $1,750,900.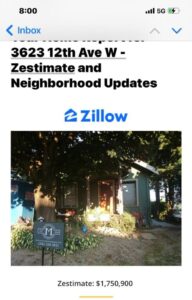 I actually remodeled that old house and added an ADU and DADU.
The house is actually worth $3,400,000 today and generates some $260K in rental income a year. All that income has gone back into buying more real estate.
Don't always trust your Zillow number.
What's mind blowing is that the old house in its old condition would be worth $1,700,000 today.
Not a bad investment.
I bought 4 other houses on Queen Anne and Magnolia after purchasing this property, and I still own those homes today.
I "forced appreciation " by remodeling and adding more doors on each property. More doors mean more income. A lot more income. I lived in the basement I built in that old house while raising my baby boy. I lived small and i invested all my income in the remodels. That basement I dug out with a shovel. Today it rents for $3,200 dollars a month and the DADU rents for $300 a night, and the main house rented for $600-1,200 a night.
All my homes do incredibly well as long term, 30-day, and short term rentals. I could retire today, at 54, because of it.
$485k seemed like a massive amount of money then….
But today I am fortunate and blessed to have many doors of income each and every month.
It was a lot of work to get there… and a lot of sacrifice. Yes I drive a decade old 4Runner and a dump truck. As an agent , I don't wear fancy clothes or drive new cars… . Why throw that money away on a new car or the latest suit when I could take the same money, buy another home, and continue to secure my families legacy and future.
I'm not the real estate agent for everyone…
But if you are looking to learn the game, force appreciation, and invest in your families future, schedule a sit down and let's get a coffee. Or, email me directly at [email protected].
Real Estate has never been cheaper!
Just ask yourself 12 years from now!
Love to all in the new year!
Amor Fati!
– Don
Don O'Neill is a Licensed Agent at
Windermere Real Estate Midtown
1920 North 34th Street
Seattle, WA 98103
#thatswheretheradiomoneywent
#radioshowsdontlastforeverbuthardworkersdo
#buyandholdinvestorinseattle
#moredoorsmorechecks
#secureyourfamilesfuture
#bornwithaplasticspooninmymouth
#queenannerealtor
#magnoliarealtor
#seattlerealtor
#ronanddonnation
#ronanddonsitdown
#greatmentors
#gratefulforitall
#amorfati
#whatwillwedoin2022
#believeinyourself
#youcandothistoo
---