This is a graph of the median home sales prices in King County from 2006 to then end of 2021: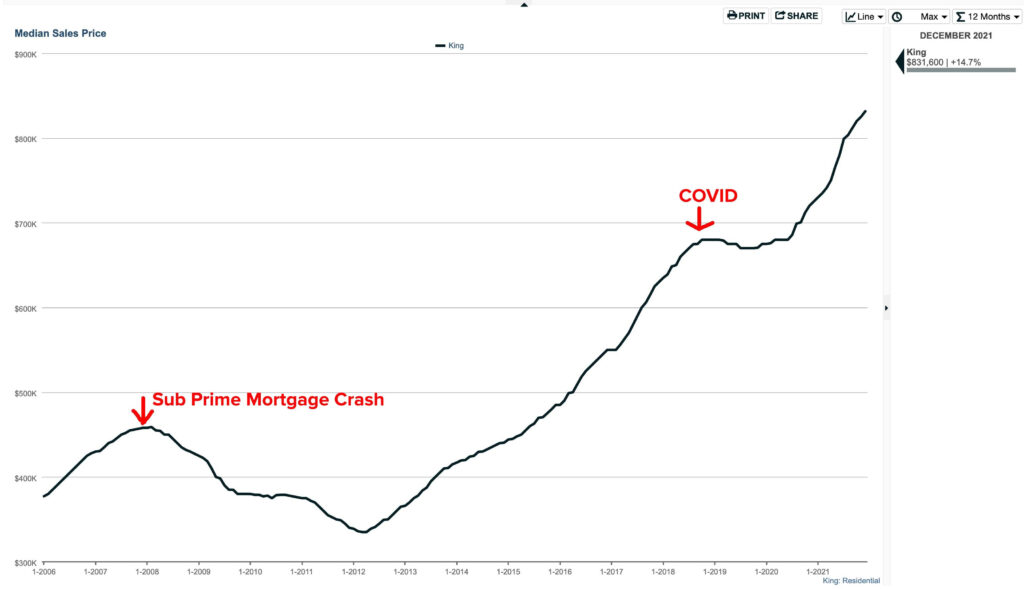 What do you think that most people thought about paying $377,000 for a place to live in 2006?
My guess is it went something like, "Are you kidding me? Almost $400 grand for that thing? I can't believe how expensive things are now. When I was a kid you could live here for . . ."
Flash forward 15 years, and that median priced house went up about 220% give or take. That's including that big dip for the Sub Prime Mortgage crash from 2008 until we started to recover in 2012. (Check out the excellent movie The Big Short if you're not up to speed on what happened.) If you've been paying your mortgage on time, you're more than halfway through paying off this house. So your equity position is bigger and bigger. Those 15 year mortgage folks now own the house free and clear.
So what's my point here? Buying real estate virtually always feels like you're paying too much. There are people we talk to that say, "The market can't keep going up forever. I'm going to wait for a correction." I've spoke to people that seem to be actively rooting for the housing market to crash again.
Let's zoom out even further: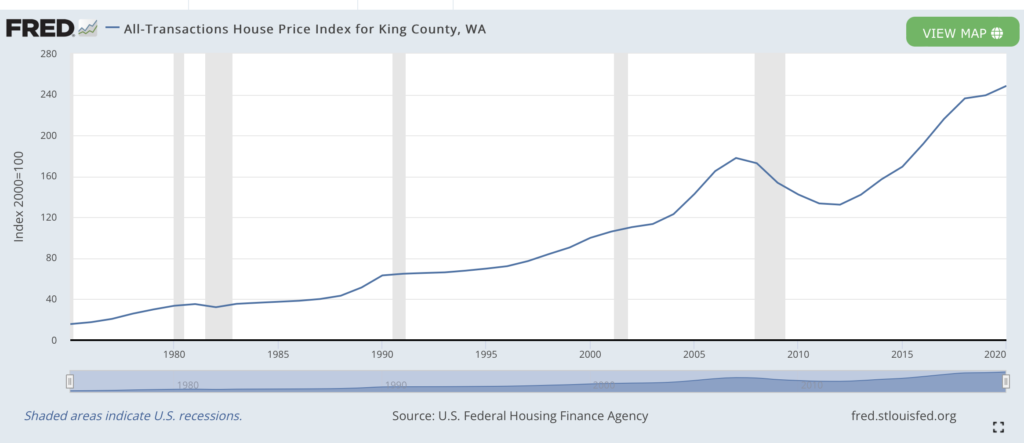 In 1975, the median home price in King County was $104,220. So while it's impossible to guarantee, with 100% certainty, that real estate will continue to become more valuable, it is safe to say that real estate has reliably gone up over time in our area.
I'm not trying to argue that it's easy to jump into the real estate game. It's expensive, it's time consuming, and it can be an emotional rollercoaster. However, if not now, when? I totally get that sense of nostalgia and knowing what things cost back in the day. It's a powerful draw to feel like something's not right. The game is rigged somehow and you're on the outside looking in.
Money and real estate are just tools. Tools that can build wealth for you and your family. The dream for most people is to escape the hamster wheel of trading time for money (aka a day job) and build up enough assets that can replace that income. There are all kinds of vehicles for this. Savings accounts, the stock market, crypto, and real estate. I was a true believer in Real Estate long before I ever became a real estate agent.
Is there a scenario where we wait another 5 or 10 or 15 years were houses in our area will be cheaper? Or will we look back and think, "I should have bought in 2022. Look how much things are now"?
The flip side of this coin is for the folks that DID buy something back in the day. You are a home owner. You have been making your mortgage payments all these years. You are the one with all that built up equity in your house.
Maybe you've been surfing the internet looking at more affordable zip codes near family or near warmer winters. This is an amazing time to be a seller.
If you want to start exploring your options, or bounce some ideas off of us, let's do a Ron and Don Sit Down. This free, 45 minute investment, could be the most valuable conversation you've had in a very long time.
-Ron
---