Don & I have a client on the Eastside that has been trying to buy a house for months. We did a Ron & Don Sit Down, came up with a game plan and met with lenders. As you may have read about in the local newspaper, the market has been extremely competitive for buyers. So how are you supposed to compete and "win" a house?
We decided to have a second Ron & Don Sit Down, look at what we had learned with the offers that were not accepted, and tweak our strategy. After getting the entire team on board, we had an offer accepted on Valentine's Day. It was definitely not easy and we all had to stretch, but we got it done. Congratulations to Kristina!
There were two quotes that popped into my head throughout this process. The first was from the late college basketball coach Jim Valvano – "Never give up, don't ever give up."
The second quote is usually attributed to Albert Einstein – "Insanity is doing the same thing over and over and expecting different results."
It was a mix of these two attitudes that finally got us over the finish line.
First, Kristina has incredible grit and perseverance. It's difficult not to take things personally in this process. Especially after putting yourself out there and committing to buy what is most likely the most expensive thing you will ever purchase in your lifetime. When you set your hopes on "the perfect home" and then don't get it, it's easy to get frustrated and quit. I have not met many people that are as tenacious and steadfast as her. She definitely embodied the Jimmy V quote. Kristina is not a quitter.
Next, everyone – including Don & myself had to figure out what needed to be done to win. Many times in life you develop a strategy that works. Then one day it doesn't work anymore. Real estate in the Pacific Northwest is evolving rapidly as market conditions change. After our second Sit Down, we decided that we needed to change things up a bit. We didn't want to become victims of Einstein's Parable of Insanity. 
The next thing that happened was trust. It's an easy word to say, and it's a difficult principle to live when the pressure is on. We all needed to trust each other and trust the process.
When we submitted on this house, Kristina said, "I have a good feeling about this one."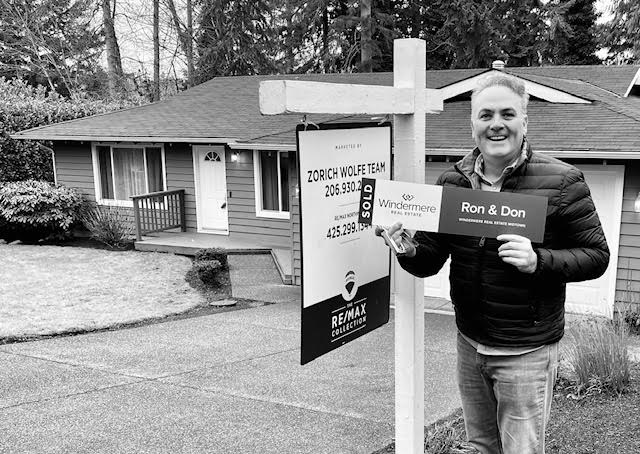 Don and I jumped into action and spent some time on the phone with the listing agent making sure we had an understanding of what was important to this seller. We checked our egos at the door and really listened. That made all the difference.
It is possible to find your dream house if you have the right realtors, and you heed the wisdom of a basketball coach and a physicist.
I think we just need to change the quote up a little bit to apply to real estate in the Pacific Northwest for 2022: "Don't ever give up, as long as you're willing to change your strategy when it's not working."
---